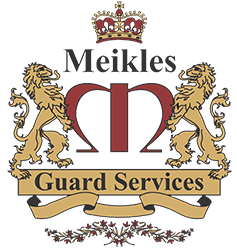 Meikles Guard Services
Meikles Guard Services (MGS) brings 18 years of security management experience in the international arena to Zimbabwe.
To provide security solutions using cutting-edge technology and highly trained and well equipped manpower.
To achieve 100% provision of the Meikles Group security requirements

To become employer of choice – number 1 in the Security sector

100% delivery of agreed customer service standards

Broaden the spectrum by providing security services outside the Group
Security manpower in the form of military type patrols as well as access control sentries using static and mobile security guards all equipped with radios

Rapid reaction unit in vehicles that are fitted with radios

Specialized covert close protection unit

24-hour communications and a Special Operations Response Team for any threatening situation

Replacement of any guard after being notified of a problem or emergency within 30 minutes at the management's discretion
A leader in Zimbabwean Security Services
MGS is a leader in Zimbabwean Security Services and a provider of complete security solutions – including domestic, commercial and executive protection.
MGS provides sports and event security, security training, security consulting, threat assessment, political and investment analysis, risk management and crisis training and specialises in the provision of fully trained, vetted and qualified personnel.

Two of MGS' directors have been in the security industry for over 15 years, with the Managing Director possessing over 30 years experience in the security, investigations, and the protection field, whilst the MGS Field Manager headed security contracts in Afghanistan.
Meikles Guard Services provides security services to the Meikles Limited Group businesses – namely TM and Pick n Pay Supermarkets countrywide, the Meikles Hotel, The Victoria Falls hotel, Meikles Stores and Tanganda Tea Company.
A number of MGS senior staff members have been involved in International security contracts in the middle and Far East. All personnel are assessed on a regular basis by the MGS Field Manager ensuring unsurpassed service to meet MGS' clients' expectations.
Meikles Guard Services employ highly trained and professionally dedicated officers to service its market in the following areas: